735 Bishop Street – Dillingham Transportation Building
Address: 735 Bishop Street, Honolulu, HI 96813
Category: Ready to Occupy
Property Type: Office
Property Subtype: Office Building
Building Size: 7,500 SF
Year Built: 1929
SUITE
RSF
RATE
SPACE DESCRIPTION

416

389

$2.25

MOVE IN READY:

Private office and reception area.
Space Available: 479 – 2,925 SF
Asking Rent: $1.40 – $2.00 per SF per month
Space(s): 4
Property & Location Description
Pacific Guardian Center, an award winning office complex, has over 629,319 square feet, providing Honolulu firms with a distinctive business address. The twin high-rise mirrored glass office towers emphasize its prominence as a strategic location in downtown Honolulu' s Financial District, while the historical Dillingham Transportation Building reflects its endurance and stability. Pacific Guardian Center offers a high quality professional environment.
Pacific Guardian Center is conveniently located in Honolulu' s Central Business District with easy access to Federal, State and County government offices and all of the various courts.
Pacific Guardian Center is the first high-rise complex in Honolulu's CBD to have an electric vehicle (EV) charging station. Use of the EV station is currently complimentary to all tenants and their guests (subject to change).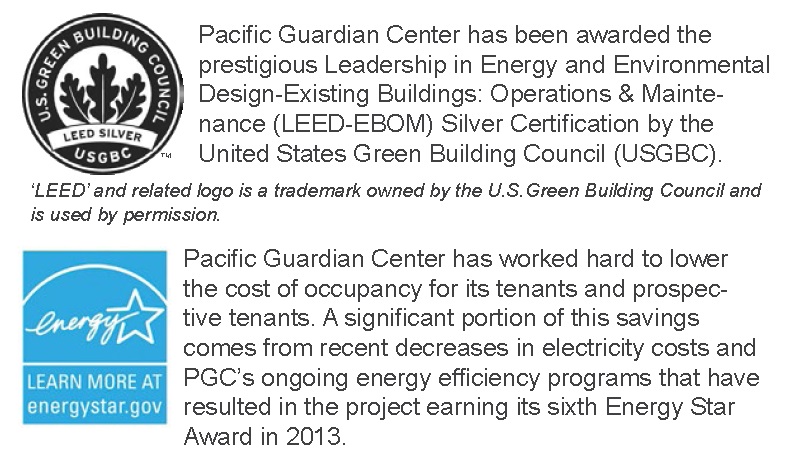 735 Bishop Street Honolulu, HI 96813